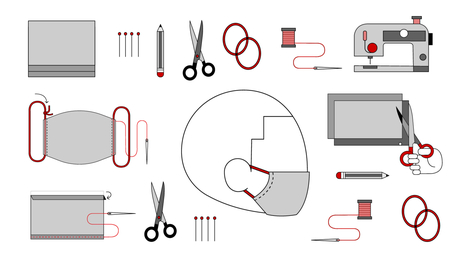 The
CDC is recommending
that everyone wear a cloth face covering when in public. Not everyone has access to a sewing machine, but you don't have to sew to create a face covering to protect you and others from germs.
If you ARE able to sew and have the time and have an extra stash of fabric, please consider making as many as you can and passing them on. Everyone needs one, but our essential workers need them more than everyone who is hunkered down at home. You can find a
free printable note
to put into the bag with the mask.
Here are some ideas to get masks into the hands of folks who need them.
CMS and Union County Schools have requested handmade cloth masks for cafeteria workers, who are still going into the schools to prepare lunches for children in need.
Consider leaving masks (in ziptop bags) out for delivery workers who may be coming by your house. Print a copy of this sign, so they know they can take one.
When you make a grocery run hand them out (in ziptop bags) to grocery store workers
Ask your neighbors if they need them, offer one to postal workers or drop them in the mail to send to loved ones.

Reach out to Facebook group, called

Face Masks for Healthcare Providers in North Carolina

to find other locations accepting drop off

Atrium and Novant Healthcare - Must be sewn: Drop off locations are HERE
MASK TUTORIAL ROUND UP